Casino – CalvinAyre.com
Udenna studies IPO, backdoor listing of $341M Cebu casino
Philippine casino investor Udenna Development Corp. is reportedly studying a possible backdoor listing or initial public offering (IPO) of its company to fund its US$341 million casino in the island of Cebu.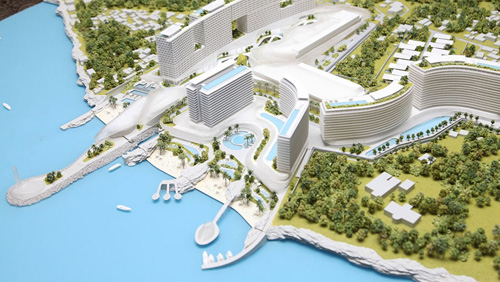 Four months after the firm had broken ground for its multi-million dollar casino, The Philippine Star reported that the casino investor is now weighing in on whether to launch an IPO to fund the project. Udenna is also waiting for the necessary permits in order to begin the excavation of the site of the casino project, according to the report.
"We're told the ECC (Environmental Clearance Certificate) will hopefully be out before Christmas because we complied, we submitted everything," said Raymundo Martin Escalona, director for special projects of Udenna, according to the news outlet.
Udenna earlier announced its plan to develop a 12.5-hectare, beachfront casino resort featuring iconic modern buildings surrounded by lush greens and infinity pools. The planned casino, located south of Manila, will also have a skydiving center on a pier, a retail complex, a convention center, luxury hotels and villas, specialty dining options, private residences and condominium-hotels.
The new casino in Cebu is looking to attract Singaporeans, Koreans, and Chinese VIP and mass markets, as well as local players. Escalona told the news outlet that the "huge Korean market" in Mactan "will be a natural market because they currently go to Cebu."
Aside from studying the means to raise funds, Escalona said Udenna is also considering to tap an experienced casino operator for the project.
Finding the right manpower, according to Escalona, is the easiest aspect of starting a casino since there are a lot of very talented people that can be sourced not only in the Philippines but also in the gambling jurisdictions of Macau and Las Vegas.
The Philippine Amusement and Gaming Corporation (PAGCOR) is grooming the country's Visayas region as the next gambling destination, as Manila becomes too congested to host another integrated resort project.
Udenna's Dennis Uy previously said their integrated resort will help transform the district of Mactan in Cebu into a premiere tourist destination and a key economic growth driver in Central Visayas.
Meanwhile, Macau casino operator Galaxy Entertainment Group also announced that it is eyeing to construct a $500 million integrated resort at the heart of the Philippine island of Boracay.
The post Udenna studies IPO, backdoor listing of $341M Cebu casino appeared first on CalvinAyre.com.